This is where I will share my thoughts and feelings. Like a diary but mostly for design and inspiration~~
I have not felt super compelled to write on here in awhile, but something happened last night that I would like to write down.

For some context, many years ago when I was probably 10-12, one of my mom's friends who's a psychic did a reading for me. I have had about 3 with her in my lifetime, but what was interesting about this first time was she revealed to me that I had a spirit guide, a small cat. As many know, I am a huge cat lover and this was really exciting to me. She described him a small, fluffy and gray. She said he smoked cigarettes and was named fluffy (lol). I'm not sure if the latter part is true, but I enjoyed the flare. During this time, my mom and I always thought we would see cats running around our house, but when we examined closer there was in fact, no cat. This would continue on for years. We told Jo about this and she suspected in might be my spirit guide who was making his presence. As I got older, I had other psychic readings/healings with Jo and around the time I was 16 she said that Smokey was distancing himself from me, not in a bad way, but because I needed to make room for my adult spirit guides, which came at 16.

I am currently living in a house with 2 cats which I have bonded with. I haven't had cats since I lived in California and have always wanted some of my own, so the cats I live with now are really great. Morrison, is my friends and roommate's cat. He is big, black and very fluffy. I was never as interested in fluffy cats and I was short haired cats because I am allergic (lol). Once I am around a cat enough, I adjust and the allergy fades. Morrison and I have bonded in the last 6 months, in the beginning he was very nervous around me and now he sleeps with me most nights. If Georgia isn't home, he will usually hang around me.

Again, I am having the sensation that I see a cat in the corner of my eye, but when I go to look where said cat should be, there is nothing there. In the last few months, the universe(?) has been going though a great spiritual shift, transitioning out of the Age of Pisces and into the Age of Aquarius. These ages of the zodiac last around 2,000 years, so it's really a big deal to experience of this shift. The Age of Pisces brought to life the notions of forgiveness, empathy, innocence, love and devotion. I think of it of a time that really represented the power of religion, and believing in a higher entity. The Age of Pisces began at the birth of christ, and in the Christian religion, many Christian symbols for Christ use the astrological symbol for Pisces, the fishes. I wish I could say I know more about other religions and how they parallel to astrology, but I don't. The Age of Aquarius symbolizes the time of discovery, innovation and progress. It represents the thirst for change and the longing for a better future. It is also a time period for spiritual growth, seeing a new world in 5D, and becoming better in-tune with the unseen.

When I think of my cat spirit guide and the spirit kitties in my peripheral, I wonder if maybe 'Smokey' is trying to reach out to me, to guide me into a new more spiritual universe.

The reason I am writing all of this down because I experienced something truly freaky last night. When Morrison the cat comes to sleep in my room, he typically sleeps near my feet or at my side, close, but far enough away to escape in a moments notice. He has never, not once, chosen to sit on my lap or on me in any way while we sleep. While I was sleeping last night, I half-awoke to a big, fluffy cat jumping on to my bed, and snuggling by my shoulder. Morrison will sometimes let me cuddle him, so I reached over and wrapped my arm around the cat that I believed to be Moe. I could feel his fur on my face and the warmth in my arms. I fell back to sleep. I woke up sometime later and the cat was gone. When I woke up at around 9am, I checked to see how much hair Morrison had left the night before, being the large black fluffy guy that he is, he usually leaves a lot evidence behind after a nap. There was no fur to be seen, like no cat had been there. It is ultimately impossible for Morrison to not leave black fur on my white bed. So… what was that. Maybe I dreamed that I cuddled a cat, maybe my spirit guide materialized for me to connect with. I sometimes suffer from sleep paralysis, but in this moment I was able to move. Either way, I definitely snuggled with a cat.
morrison the real cat.
Revisiting Sophie's Video Diaries, I am becoming really sad. The past few days have been difficult for me. Emotionally, I am not in a great place. When I am home at night, I like to revisit photos or watch videos of my friends. I once had an ex boyfriend tell me that I am too nostalgic because I love to look at old photos, and it hurt my feelings, but when I really thought about it, what is the point of taking so many photos if I'm not going to look at them time to time. Anyways, I chose to watch Sophie's videos. Living through a pandemic in your mid twenties isn't great, but I hadn't really let it bother me because I still connect with my friends on a regular basis (in a socially distanced way). Watching these videos really make me feel like COVID-19 is robbing me of some good times in my life, and for who knows how long. I miss being around people. I miss being in a crowded room. I miss being surrounded by people I love and I miss being around acquaintances at an art show, a bar or even at a park. It is one of the greatest joys in life. I love people. Hopefully our government will one day put this disease to an
end.
Dear anyone who may read this, though I am certain NOBODY read this page, except maybe Sophie,

Please take a chance on a "inexperienced" designer like me. Please hire me.

I have been thinking a lot about perfume scents lately. Scent is one of the most powerful forms of association and perfume scents bring me back to many different times or people in my life.

Right now I wear Aesop's Tacit, which is a combination of Yuzu, Vetiver Heart, and Basil. I wear this with my Neroli oil roller ball, and my Aesop deodorant, which is Vetiver Root, Zinc Ricinoleate, Coriander Seed. One day I will smell these and remember what its like to be 25 living in a pandemic.

Last summer (2019) I wore Maison Louis Marie perfume oil in the scent Cassis. It's top notes are Cassis, Bergamot, Black Pepper, the mid note is White Rose and the base notes are Oakmoss, Musk, Tonka. It's a really nice scent, I never owned it, I just got samples at Sephora. I wore it the summer after I graduated college and had ended a relationship I felt stagnant in. It was a summer I felt really independant and happy, everything felt exciting and fresh, kind of like this perfume. At the end of summer it ran out, and Sephora stopped carrying it, so I could no longer get it. I always looked at buying it but never did. Nowadays, when I find an empty sample canister or see it at a store, I smell it and remember a very exilirating time of my life. It's the best.
I've always like the idea of getting a perfume sample at a store right before a trip, so that when you're on the trip, you can wear the perfume and have it be apart of you. In the future you can revisit that trip with a smell and have a different type of memory than a photo. When we often revisit memories, we look at old photos, but I think scent is so much more powerful than that, for me it brings up feelings and emotions of another time.
I have cousin who passed away when she was 17, I was 12 at the time, 13 years ago now. She always wore Thierry Mugler's
ANGEL

. I remember thinking she was the epitome of a Cool Teenager. Beautiful, slender, wore cool clothes, listened to cool music, had lots of friends and was well loved. I remember visiting her house and going in her room and seeing the large crystal like, star shapped bottle of perfume. It sat on its side, almost like it was tipped over, instead of upright like a normal perfume bottle. The scent was so strong, I could always smell it on her. When she passed away the scent didn't leave with her. I could smell it everywhere. During her funeral all the women in my family, including myself, wore the perfume to honor her. I can't walk past it in a store and not smell it, or spray it on myself. To this day I can still associate the sweet smell with my cousin. I hope that never goes away. The notes are stated as such:

Angel Eau de Parfum belongs to the Oriental Gourmand fragrance family and is revealed in three successive notes:
- Celestial Facet: The delicate swirl of Calabrian Bergamot notes
- Delicious Facet: irresistibly outrageous gourmand praline notes melded with zestier red fruit notes
- Voluptuous Facet: the trail and sensuality of Vanilla and Patchouli
I have lots of memories of perfumes. When I met my best friend Bianca in High School she wore Princess by Vera Wang, then B by Balenciaga, and now Tacit by Aesop, which I copied from her. My friend Kelsie wore Daisy by Marc Jacobs and so did my friend Emma. Much to Emma's dismay, the scent was always stronger on Kelsie and I associated it with her. Now when I smell Daisy, I can't indentify either of them in the notes. Georgia, by best friend and roommate, wears Maison Louis Marie No.04 Bois de Balincourt.

My first scent was Viva La Juicy by Juicy Couture(High School, Freshman year), my second was Chloé Eau de Parfum by Chloé(Sophomore-Senior), which is a perfume I picked out soley based on the bottle, I don't even think I really liked the scent when I started wearing it. After that it was Roses de Chloé by Chloé(Senior year-Junior College), because I wanted people to associate Rose scent with me. At some point I have had Jo Malone Red Roses, which was a gift from my mom, but it was so overwhelming I couldn't wear it. I can smell any of these scents and be reminded of the traumas of high school... lol. I also like to wear Rose water from the Heritage Store... reminds me of home.

Also- although not a perfume but a candle, the Mrs. Meyers candle in Geranium smells specifically of living with my mom in the house I grew up in during Halloween time. It is so crazy specific, I never want to smell it anywhere else just so I can go back to that time when I smell it. It is my best memory of Petaluma.

Anyway, I didn't mean to write an essay but I did. Scent is important to me.
I would love to be good at drawing again
I came to a realization the other day that I truly only enjoy movies if they have the right je ne sais quoi. For example, any movie made by Nancy Meyers... excellent set design, food visuals, costumes and an overall feeling of comfort. I sometimes think I don't neccesarily care about the story so long as the visuals feel right. I've unfortunately based my life of movies I grew up watching, I sometimes romanticize my own life through the lens of a Meyers film, which can make certain situations better.... or worse!

Here's films with the
ISH,

stills taken from Lisa Says Gahs Film Friday Pinterest Board:

1. Teen Witch 1989
2. Parent Trap 1998
3. You've Got Mail 1998
4. Virgin Suicides 1999
5. Casper 1995
6. Never Been Kissed 1999
One of the
best performances

... IMO! I really listen to this song on repeat. It feels like crack. I listened to it most when I was alone in LA for a week during September, I was feeling really depressed and this song was comforting. It's weird to feel sad and alone during a pandemic in one of the most exciting cities, while it's dead.

I love Kurt Cobain, on a Pisces level. ♓︎★

Something I have always wanted to do is have a radio or public access television show. I don't think I possess the talent for being a great interviewer, but I think it would be cool to have a 7 minute segment where you feature an artist, musician, scientist, etc., and its just fun quick facts. Maybe theres no speaking... maybe its just a meditative show. Maybe I could just design the set for this type of show. I love the idea of interviewing old people who are collectors of antiques and displaying their collection in a stylized setting.... i'm also just on a weird antique hype rn.
Sept 21st 2020
I have been thinking a lot about the pre-teen book series, The Clique. If you read it then you know that Massie, the main meanie, would make lists of what's In and whats Out. I want to do that too.
Ok I just googled the List and its actually called
Massie Block's Current State of the Union.
Ok here is my current state of the union: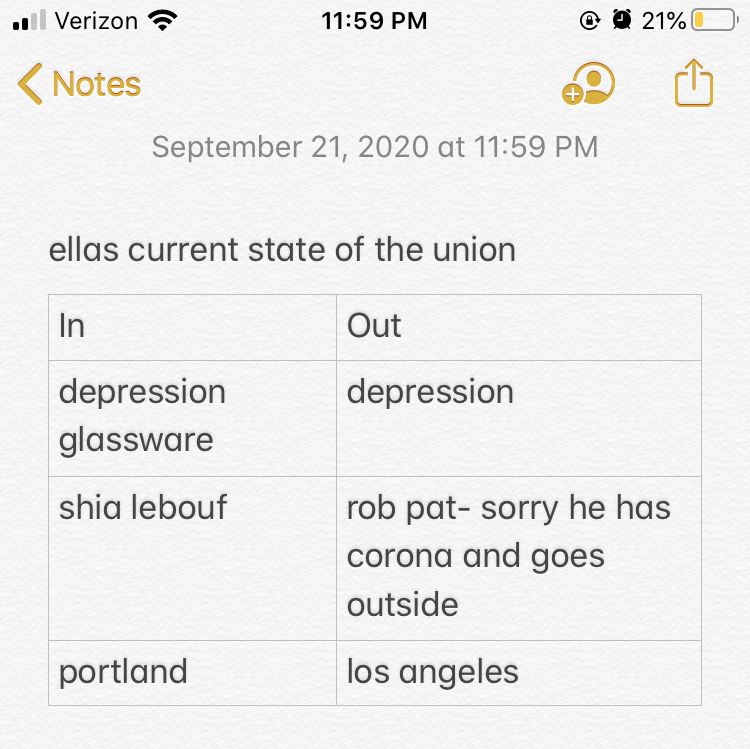 thanks for watching